Plaza Juarez
Places to see in Magdalena de Kino, Sonora
Plaza Juarez is a small, quiet plaza that is about a block east of the much larger Plaza Monumental.
Named in honor of Mexican President Benito Juarez, the plaza's centerpiece is a bandstand and it has many park benches where you can sit an relax under shade trees.
Located on the streets around the plaza are businesses and offices, like the Elektra electronics store, a pharmacy and a dentist office.
During fiestas and festivals, the streets around the plaza become bars and food courts, where you can enjoy a cold beverage and some great carne asada, before you dance in the street with the other partiers.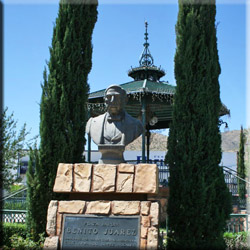 Plaza Benito Juarez