Plaza Monumental
Places to see in Magdalena de Kino, Sonora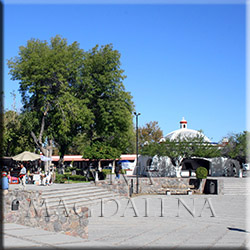 Plaza Monumental is a centerpiece of Magdalena's cultural and historical district.
The Temple of Santa Maria de Magdalena is situated on the west side of the plaza, and next to it is the relatively new, modern building that is a religious shrine to San Francisco Javier and other saints.
A statue honoring native son Lic. Luis Donaldo Colosio Murrieta, who was slain in 1994 while campaigning for the presidency of the republic, stands prominently on the south side of the plaza.
The east side of Plaza Monumental has a very interesting place to visit, the mausoleum of Jesuit missionary Padre Eusebio Francisco Kino, where you can see the remains of the man who had a tremendous impact on the region.
And just north of the plaza, in arched colonnades, are quaint shops that sell curios, religious products, clothing, blankets and a variety of tourist goods.
In addition to being an inviting place to stroll and relax, the plaza is a center of activities during fiestas, festivals and other civic events in the pueblo of Magdalena de Kino.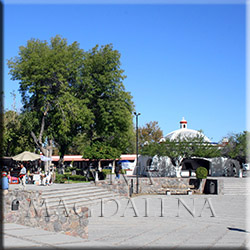 Plaza Monumental